This mental health and drug and alcohol nurses' forum was extremely well attended.
Lisa Ferguson, Drug and Alcohol CNC at St Vincent's Hospital in inner-city Sydney, was the first speaker of the day, on the role of the drug and alcohol liaison nurse.
Listen to a podcast of Lisa's talk.
What is a mental health nurse doing in Community Services? – Kt Harvey and Alan Grochulski (below), Clinical consultants, Clinical Issues Unit, Community Services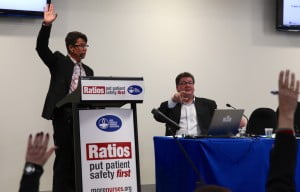 Forensic mental health – Elizabeth Roberts, Brad Roser, Chris Marsland, Jane Jackson and Shona Macleod, Clinical nurse consultants, Forensic Hospital, Malabar