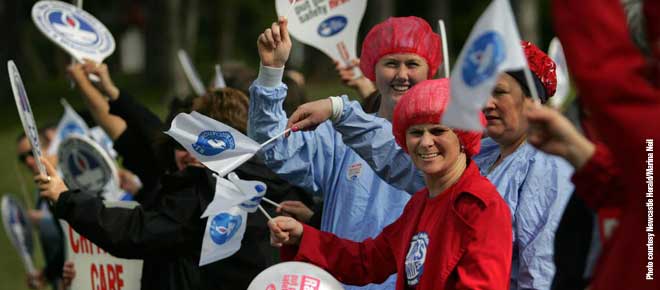 Our strike on Wednesday July 24 attracted a lot of media attention in NSW … and from other parts of the world. Here are all the headlines.
Striking NSW nurses vote for new round of industrial action
The Guardian in the UK!
Thousands of nurses from 180 NSW hospitals have voted during a statewide strike to launch a fresh round of industrial action in their fight for patient-staff ratios.
Strike coverage in China:
http://www.globaltimes.cn/content/798646.shtml#.Ue_FS2S9Kc0
Strike coverage in NZ: http://www.odt.co.nz/news/world/australia/265105/nurses-strike-across-nsw
NSW nurses strike hits Queanbeyan, Cooma – Newcastle Herald
About 5000 members of the NSW Nurses Association took part in state-wide strike action as they waited for the O'Farrell Government to guarantee staff-to-patient ratios, among other issues. Monaro nurses association spokeswoman Viola Morris said staff ..
Broken Hill nurses vow to continue fight  -ABC Online
Broken Hill nurses have vowed to continue fighting despite their strike being ignored by the NSW Government. Health Minister Jillian Skinner said most nurses were not striking yesterday. "They're happily working in our hospitals," she said. But Ms …
Nurses to keep the strikes rolling on NEWS.com.au
NSW Nurses and Midwives Association general secretary Brett Homes told protesters nurses cannot be bought off by the government who has awarded them a pay rise but refuses "point blank" to negotiate on staffing levels. "We will not go away because this …
Nurses' rolling strike protests conditions – Newcastle Herald
NSW nurses have threatened to hold more industrial action after walking off the job yesterday as part of a statewide strike. Thousands of nurses from 180 NSW hospitals took part in rolling actions in their fight for better staff-patient ratios …
Nurses, midwives strike over safety concerns – Northern Star
NURSES and midwives across the Northern Rivers walked off the job yesterday, sending a loud and clear message to the NSW Government that nurse-to-patient ratios across the state are unsafe. More than 250 nurses and midwives met at Lismore's Star …
100 nurses stop work to protest  -Daily Advertiser
NOT ADDING UP: NSW Nurses and Midwife Association Riverina president Jodie Godfrey and vice president Tania Gleeson (left) stand with association delegate Sylvia Moon at the stopwork meeting yesterday. The two-hour meeting was held at the Mercure.
Bega nurses vow to continue action – Bega District News
Members of the NSW Nurses and Midwives Association get ready to board their bus to Merimbula to start today's strike action (from left) Noelene Bell, Jo Graeme, Edith Waterson, Kate Stewart, Di Lang, Sarah Clifton, Kim Coghan, Leonie Bateman, Sally …
NSW Nurses Strike 2013 Hits Queanbeyan, Cooma – Canberra Times
The NSW Nurses Association with protesters outside Queanbeyan District Hospital in June.
www.canberratimes.com.au/…/nsw-nurses-strike-hits-queanbe…
Nurses rally for equal care no matter what your postcode – South Coast Register
The NSW Nurses and Midwives Association (NSWMA) wants a ratio of one nurse to four patients in every hospital, not just in the metropolitan areas of Sydney. While the main rally was at Sydney Olympic Park, where a special general meeting of the NSWMA …
Nurses ask for better deal – Muswellbrook Chronicle
The government has offered nurses a 2.5 per cent pay increase, however NSW Nurses and Midvives Association (NSWNMA) Muswellbrook branch secretary Adrian King said the offer overlooked crucial elements of what nurses were asking for.
Nurses vow to bed down for long haul – Goulburn Post
The group held a spirited stop-work meeting at the Workers Club where they unanimously resolved to escalate their campaign to convince the state government to guarantee the same minimum nursing levels would be applied in every hospital across NSW.
Kempsey nurses stop work in statewide day of action – The Macleay Argus
Waving placards, cheering and applauding speeches from NSW Nurses and Midwives Association officials, staff from every department at Kempsey District Hospital rallied at a live video link-up from Sydney. Stop-work action at the hospital meant many of …
LETTER: We need more nurses – Newcastle Herald
By Peter Gray. July 25, 2013, 10:44 p.m.. I SUPPORT the nurses of NSW and their campaign for improved working conditions ("Nurses in rolling strike to protest work conditions" Herald 25/7). I can personally testify to the great job our nurses do …
Nurses voice concern over patient care ratios – The Singleton Argus
"What we want is for rural hospitals and communities to be able to deliver the same amount of quality care as those in city centres," NSW Nurses and Midwives Association – Sing-leton president Bridget Moberg said. "The nurse to patient ratio was …
Nurses vow to continue fight – Wellington Times
NSW Nurses and Midwives Association Dubbo branch president Steve Nott said local members voted to sit-in and strike for eight hours to watch the live protest instead of rallying on the streets. "At a regional hospital to try to go out on the streets …
Campaign is all about patient care: union – Bay Post/Moruya Examiner
Regional organiser for the NSW Nurses and Midwives Association, Mark Murphy, said the turn out of South Coast nurses and midwifes to the Bomaderry rally was "fantastic". "It just showed the level of commitment local nurses throughout this region have …
Local staff add weight to protest – Port Macquarie News
… at Wednesday's rally. MORE than 100 nurses and widwives from throughout the Hastings and Manning areas assembled at Pier One at Port Macquarie Panthers on Wednesday to demand the NSW government provide mandated nursing staffing numbers.
Nurses promise to 'up the ante'
Milton Ulladulla
NSW Nurses and Midwives Association Milton-Ulladulla branch delegate Robyn Bean said 22 nurses attended the rally calling for fairer patient care in regional hospitals. She said local nurses would "never
give up" on their campaign for increased nurse…
Our nurses join strike
Bombala Times
Meanwhile staffing levels at the Delegate MPS were too low to allow for a responsible strike, but off duty staff attended a special general meeting of the NSW Nurses and Midwives Association in Merimbula on the day. NSWNMA general secretary, Brett …
The NSW Nurse and Midwives Association have accused Premier Barry O'Farrell of failing to provide guaranteed, safe nurse staffing levels in all public hospitals, clinical units and community health services as well as equal nurse-to-patient ratios…
Bridge march to support strike action
Great Lakes Advocate
While 178 sub-branches of the NSW Nurses and Midwives Association (NSWNMA) rallied in Sydney and other major regional areas, Forster Community Health nurses marched across the bridge to honks of support from drivers. "We might not have a public …